Spring Menswear Essentials
Spring is a beautiful time of year, the flowers are blooming and the sun is shining. Now is the time to update your wardrobe along with the changing weather. Here are five menswear essentials that will take you through the upcoming warmer months in style.
1. The Rugby Shirt
The Rugby shirt is the perfect garment to help with the transitioning seasons. It is a great layering piece and can be also worn on it's own. Throw over a t-shirt or wear under an outdoor jacket for a laid back casual look.

2. Chino Trousers
As far as wardrobe staples go, chinos are a must have. They are extremely versatile because they can be worn for almost any occasion. Dress up with a formal shirt and a blazer or for a more casual look, wear with a polo shirt and a pair of deck shoes. You can wear almost anything with a pair of chinos. Don't be afraid to experiment with patterns and colours. Why not try our new pink chino trousers with a sky gingham check shirt for a statement look.

3. The Polo Shirt
This classic casual basic is an essential piece of menswear. Our 100% cotton polo shirts are perfect to see you through spring and summer. We offer a wide variety of polo shirts, from plain to striped, so you are bound to find one that suits you. These look great teamed with a pair of shorts, jeans or chinos. Why not invest in a bright coloured polo, such as Magenta or Spearmint to add a bit of character to your outfit.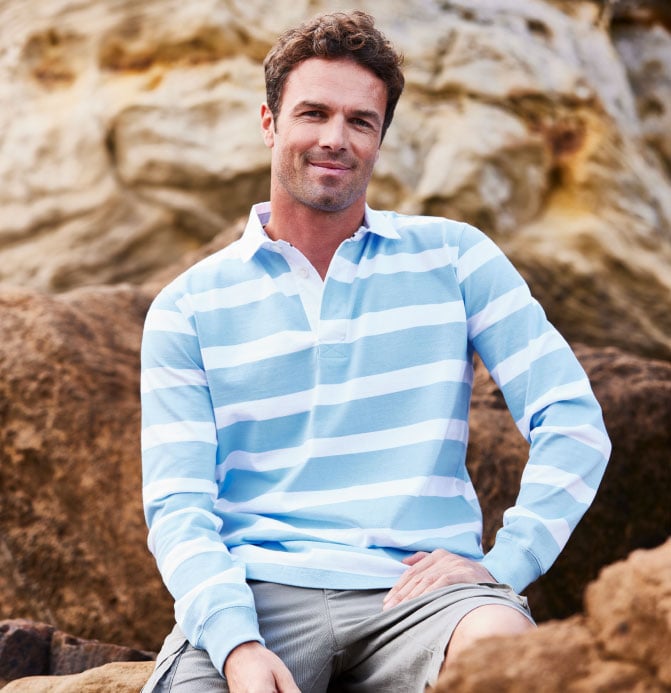 4. The Unstructured Jacket
Made from a blend of cotton and linen, this unlined and unstructured jacket offers an alternative smart casual look. Soft tailoring featuring a three-button fastening and patch pockets our unstructured jacket carries all the recognised hallmarks of formal dressing but feels much more at ease.

5. The Casual Belt
Finish off your spring outfit with one of our casual belts. Our webbing belt is both practical yet stylish and will look great with a pair of chinos and a linen shirt. Available in Navy, Stone, Olive and Navy/Ecru.